BACKGROUND
We originally built this engine in 2010 for the previous car's owner. Engine build was very simple at the time. Simplicity and reliability were priority with good response and power following on the priorities list. Original build part list consisted of Wiseco pistons, Eagle rods, Clevite bearings, ARP fasteners, stock cylinder head, and Garrett GT2871R 0.86AR turbo. Car made 399whp at 19psi on race gas and used for Midwest Counsil and road racing HPDE's in the Midwest. Original owner sold the car and new owner crashed it. New owner brought us the motor for rebuild since we were already familiar with it.  This time a rebuild consisted of block reconditioning and complete rebuild of the cylinder head. We are an engine shop and typically do not install engines, but since this was a very detailed project we accepted a full service job to ensure proper camshaft and engine break-in. Original injectors were sent out for flow testing and cleaning. Garrett GT2871R turbo was inspected and cleaned. New clutch and flywheel installed. A lot of small issues fixed all over the car to ensure reliability. As of last update by the customer the car was dyno tuned at the same facility as original owner's and by the same tuner. As it sits the car made 322whp at 12psi on 93 octane "pump" gas. Can't wait to see this engine perform at 20psi and even more so on race gas or E85 🙂
BLOCK PARTS AND SERVICES
Engine block: Engine block was stripped, baked, shot blasted, primed, and painted silver. New expansion plugs installed. Cylinder were honed just to rough them up and help rings sealing. Main bearing housings were align honed lightly as well. Oil gallery plugs at both ends of the block extracted, block tapped, and removable pipe plugs installed. This will make future servicing easier and ensures 100% cleanliness.
Crankshaft: Crankshaft was checked for bend, Magna Flux checked for cracks, and journal micro-polished and measured. Crankshaft oil gallery plugs were extracted, crankshaft tapped, thoroughly cleaned, and threaded pipe plugs installed. After all that prep work the crankshaft was re-balanced.
Pistons: Wiseco 90mm forged pistons at 9.0 compression were reused from original engine. Pistons sent out for coating service, heavy duty tool steel piston pins and new piston rings also fitted. We had the original spec sheet from 4+ years ago to compare piston size and cylinder clearances.
Connecting rods: Eagle H-beam forged connecting rods reused in this engine. Connecting rods were Magna Flux inspected for cracks and defects, reconditioned, and new ARP2000 rod bolts installed. Every set of connecting rods is inspected and measured during initial build. We measure rod bolt lengths and record information in the build packet. Several rod bolts took a permanent stretch so we replaced all bolts as a set.
Bearings: We use Clevite main and rod bearings in this engine. Each bearing shell was measured with a ball micrometer and shells select fit to each journal to obtain consistent clearance across all of them. Bearing shells are marked for location in the engine and thickness recorded in the build packet.
Fasteners: Several head studs showed thread damage and nuts did not turn smoothly. Old regular ARP head studs replaced with a set of new ARP2000 head studs. PRE main stud kit made by ARP was used in this engine.
Lubrication: Oil pump was disassembled and inspected. New oil pump assembly was fitted during last rebuild and gerotor clearance information was on record. Oil pump was measured and inspected; it passed inspect and was primed and reassembled. New oil pump housing O-rings and oil strainer gasket fitted at time of assembly. New check valve was fitted in the oil filter housing of the block.
CYLINDER HEAD PARTS AND SERVICES
Camshafts: We chose Kelford stage 2 camshafts for this engine. This is a rather aggressive camshaft for most applications and definitely an overkill with a GT2871R turbo, but with future big turbo upgrade in mind as well as benefits of displacement, in comparison to the SR20DET engine, we feel in its current state the camshafts will have minimal impact on turbo lag and engine response.
Valve springs: Supertech dual valve springs kit with titanium retainers, and hardened spring seats was used in this engine. Supertech manufactures quality products. Most importantly, Supertech springs are very consistent in length and pressure in comparison to some other springs we installed in the past.
Valves: OEM valves are steel intake and stainless steel exhaust; they works well for mild turbocharging and sport sprint use. This engine's valves were used and showing wear. Guides were also worn. This engine is designed for high power long duration use, thus a set of superior metallurgy valves is a must. We used a set of stainless steel nitrite treated oversized intake valves and inconel oversized exhaust valves. Supertech valves provide superior thermal control for extended run times.
Guides: Stock guides were worn. We sourced a set of manganese bronze valve guides and machined them to PRE spec. Valve guide were shortened and machined with a contact radius at the port protrusion.
Cam followers: We modified VQ35DE shimless cam followers to fit this engine. We make a milling fixture for this operation. Advantages are shorter length and overall reduced weight. Sprung weight directly affects inertial loads. Lighter cam followers allow use of lower valve spring pressures without risk of valve float.
Camshaft sprockets: Camshaft timing and setup is of utmost importantce when building a performance engine. Adjustable camshaft sprockets allow camshafts to be degreed to cam card specs or your own. Factory sprockets are not adjustable and Jim Wolf Technologies, JWT, sprockets cost $140. We made a mill fixture and wrote an easy program allowing us to modify stock sprockets in the same fashion as JWT at a better price point. Most important we were able to degree these Kelford camshafts exactly to spec; for the record both cams were off considerably.
Machining: Valve seats were cut with 3 angle profile and light bowl blended by hand. Cylinder head was previously machined for copper O-ring wire. Old wire was removed and new copper wire fitted. Cylinder head casting was machined to clearance high lift Kelford camshafts. Cylinder head was not milled on the head gasket surface. It was measured to be flat. Before final wash, head gasket surface was lapped by hand with a stone to ensure smoothness.
PICTURES
Coated Wiseco 90mm 9.0 forged pistons, new rings, inspected and reused pins, and reconditioned Eagle forged connecting rods with new ARP2000 rod bolts.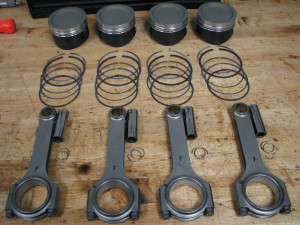 Block align honed and thoroughly washed after all oil gallery plugs extracted.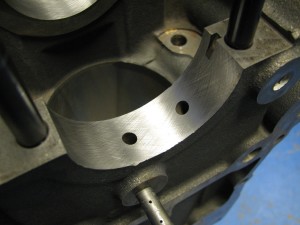 Crankshaft oil gallery ball plugs extracted. Crankshaft drilled, taped, and prepared for threaded pipe plugs. Crankshaft thoroughly cleaned and performance re-balanced.
Cylinder head fitted with copper O-ring fire-ring grooves. Old, crushed copper wire removed, and new wire fitted. Another view of the Supertech oversize stainless steel nitrite treated intake and inconel exhaust valves.
Intake ports lightly ground to remove casting parts and bowl blend seats to ports. Intake and exhaust guides were replaced with PRE custom guides. We shortened the guide protrusion from the valve spring side to accomodate high lift Kelford camshafts. This "sinking" of the guide from spring side causes excess protrusion into the port. Both intake and exhaust guides were shortened with a ball radius tool for flow optimization.
Cylinder head was converted to use VQ35DE solid cam followers. Stock KA24DE cam followers are two-piece design with a "bucket" frame and separate adjusting shim. VQ35DE cam followers are one-piece design and you have to replace each one to adjust camshaft to valve clearance. This can be rather expensive so we mock assemble the cylinder head, measure valve clearance, disassemble, grind valve tips to increase clearance, and then final assemble the head. VQ35DE lifters are not a direct replacement for the KA24DE engine. Both lifters same diameter, but VQ35DE lifters have a pedestal stem underneath. This pedestal has to be machined shorter to fit KA24DE head. We made a small soft-jaw fixture to machine lifters in the mill. VQ35DE solid lifter advantage is shorter length allowing high lift camshafts and dramatic reduction in weight. This directly translates to reduced total mass of the valvetrain and inertial loads. Lighter lifters allow use of softer springs that can be used over 7500RPM limit without valve float risks.
Another cylinder head modification had to be performed. Kelford high lift camshafts have such big lobes they did not clear cylinder head casting and would not rotate. Cylinder head was mounted in the mill and casting relieved with a ball endmill. This operation performed on both intake and exhaust side.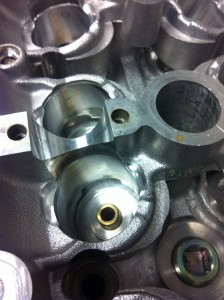 Final step of cylinder head blueprinting is measure valve spring install heights, measure spring pressures, and shimming springs to equalize them. This is essential to consistent valvetrain performance on all 4 cylinders.
This engine also fitted with PRE camshaft cap bolts made to our specification by ARP. These bolts are made of higher tensile strength steel and torque to a higher value than stock bolts. Stock bolts torque to 8ft-lb, while PRE bolts torque to 12ft-lb. This increased clamping ensures high lift camshafts and stiffer valve springs don't lift the caps off the head.
PRE KA24DE adjustable camshaft sprockets fitted and camshafts degreed to Kelford cam card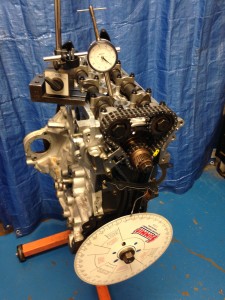 Engine assembled with manifolds and ready for installation