BACKGROUND
We were contacted by a local dealer to rebuild an engine for a 2011 Audi TT. This Audi has the EA888 2.0T TFSI engine designation. Vehicle came off the transporter with a misfire on cylinder 1. Quick inspection showed heavy oil deposits on cylinder one spark plug and very low compression. Cylinder head was removed and further carnage discovered. Someone opened this engine once before. Head gasket mating surface was ground with a 3M Roloc disk. Cylinder 1 showed heavy scoring and a chunk of aluminum found in oil pan. It wasn't until full disassembly was performed that actual failure was discovered. Engine was disassembled, cleaned, and all components inspect. Broken piston on cylinder 1 was the culprit. Audi dealer left very few cost effective repair options. Factory pistons cost ~$350 each and only available in standard size; not an option since cylinder was damaged and required oversize machining. We chose to design a set of forged pistons with stock compression and 0.5mm oversize bore to repair damaged cylinders.
A quick preview of the piston failure below and damaged head gasket surface
BLOCK PARTS AND SERVICES
Engine block: Engine block was disassembled, rough washed, and inspected. Cylinder were bored and honed with a torque plate and ARP head studs. Main bearing housings were align honed lightly as well using ARP main stud kit. Since head gasket surface was damaged using 3M Roloc "grinding cookie" it was also milled minimum amount to restore flatness and proper roughness.
Crankshaft: Crankshaft was checked for bend, journal micro-polished, measured, and finally performance balanced.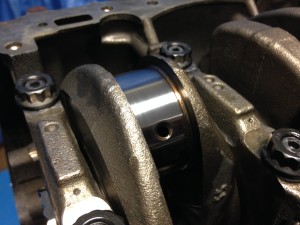 Pistons: PRE custom forged pistons were made for this engine. No other piston is currently available on the market for this engine. There several forged piston manufacturers who make Audi/VW pistons, but they are all designed for the older 1.8T and 2.0T engines which use smaller piston pins. Audi chose to use 23mm piston pins which are DLC coated since connecting rods do not have pin end bushings. Our pistons are made to reuse factory DLC coated piston pins. Each piston pin length and end play was measured.
Connecting rods: OEM connecting rods were reused in this engine. Bearing end bore measured to be within factory tolerance. Piston pin end also measured to be within specification. New connecting rods bolts fitted since original bolts are torque-to-yeild aka one time use.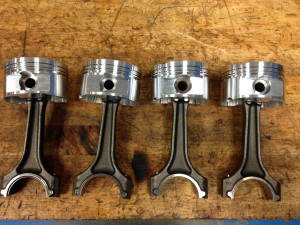 Bearings: OEM main bearings were sourced from Germany for this engine with extensive lead time. Connecting rod bearings are expensive so PRE chose to develop a cost-effective high performance option. This was a collaboration with ACL using their Race series bearings with tri-metal metallurgy. OEM bearings are bi-metal aluminum construction. OEM bearings can be cheaply manufactured, but not intended for high performance use.
Fasteners: Several head studs showed thread damage and nuts did not turn smoothly. Old regular ARP head studs replaced with a set of new ARP2000 head studs. PRE main stud kit made by ARP was used in this engine.
Lubrication: Oil pump was disassembled and inspected. Oil pump was measured and inspected; it passed inspect and was primed, then reassembled. We offer oil pump modification service to increase low RPM volume.
CYLINDER HEAD PARTS AND SERVICES
Valves: Valves were reground due to damaged sealing angle and poor pre-disassembly leakdown test.
Machining: Valve seats were in decent condition and did not require machining. Valve faces were reground and valves hand-lapped. Seating was checked and confirmed. Valve stem seals replaced and cylinder head reassembled.