We are proud to offer motorsport grade connecting rod bearings for various BMW engine. OEM bearing available in only one grade, sometimes hard to source, and definitely not cheap. This project's three goals were as follow, in order of importance:
Development of high performance connecting rod bearings
Readily available supply of various grades for bearing clearance optimization and crankshaft repair
Reasonable price point compared to OEM products
Questions have come up in online forum groups about the validity of our product and need for extra clearance bearing. Terms such as "because racecar" comically used. Offering various grades other than OEM "standard" allows for more precise bearing clearance adjustment and journal repairs upon signs of damage. All engine parts are subject to manufacturing tolerance. Crankshaft journals can be ground larger and connecting rod bearing ends honed bigger than the target. Worst case scenario occurs when an inadequate rod bearing clearance leads to bearing, crank, and eventually engine failure.
DEVELOPMENT: PHASE 1
This project started with connecting rod bearing development for the M20/50/52/54 series of engines. US spec S50B30 and S52B32 also use same connecting rod bearings. We work with ACL using their Race series tri-metal bearings for this application. Superior metallurgy allows increased bearing loads for the high-performance applications. Another important advantage of PRE bearing is size availability. We offer connecting rod bearings in following grades:
H-STD, standard clearance
HX-STD, each shell undersize by .0005in for total increase in clearance of .0010in
H-.025, each shell oversize .0005in for total decrease in clearance of .0010in
H-.25, .25mm(.010in) oversize, repair size #1, used when repairing/grinding damaged journals
H-.50, .50mm(.020in) oversize, repair size #2, used when repairing/grinding damaged journals
DEVELOPMENT: PHASE 2
The second phase of development focused on connecting rod bearings for BMW S62B50 engine. This 5.0-liter V8 engine can be found in E39 M5 and E52 Z8. We collaborated with King bearing for this project. King XP series bearings are of tri-metal construction with hardened steel backing, silver plating, sintered copper, and hardened overlay. These bearing work exceptionally well in endurance racing applications. We offer connecting rod bearings in following grades:
H-STD, standard clearance
HX-STD, each shell undersize by .0005in for total increase in clearance of .0010in
H-.25, .25mm(.010in) oversize, repair size #1, used when repairing/grinding damaged journals
DEVELOPMENT: PHASE 3
The third phase of development focused on connecting rod bearings for BMW's legendary S54B32 engine. This 3.2 liter inline 6 engine can be found in E46 M3 and Z3, as well as E85 Z4. We collaborated with King bearing for this project. King XP series bearings are of tri-metal construction with hardened steel backing, silver plating, sintered copper, and hardened overlay. These bearing work exceptionally well in endurance racing applications. We offer connecting rod bearings in following grades:
H-STD, standard clearance
HX-STD, each shell undersize by .0005in for total increase in clearance of .0010in
H-.25, .25mm(.010in) oversize, repair size #1, used when repairing/grinding damaged journals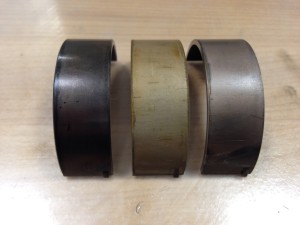 PRE connecting rod bearing can be purchased from our eBay store:
M20 M50 M52 M54 S50US S52US engine connecting rod bearings