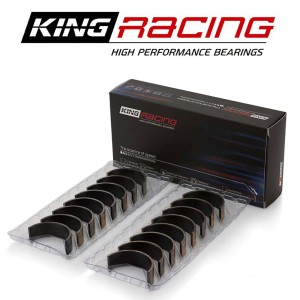 Pavel's Racing Engines is pleased to offer high performance connecting rod bearings for the Subaru FA20 and Toyota/Scion FRS 4UGSE engine. This bearing kit made by King Bearings and meant for high performance street and race engine use.
AVAILABLE GRADES:
H-STD (standard)

HX-STD (extra clearance by 0.0010 inch)
H-STD 0.025 (less clearance by 0.0010 inch)
H-0.25 (undersize 0.25mm/0.0100 inch, repair size #1)
H-0.50 (undersize 0.50/0.0200 inch, repair size #2)
KIT CONTENT: 8 high performance tri-metal connecting rod bearing shells
KING XPG BEARING ADVANATGE:
The unique combination of design, metallurgy and engineering come together to deliver what drivers expect from high performance tri-metal engine bearings.
Designed to withstand higher RPM conditions, King XPG Race Series engine bearings are available for many of the popular 4, 6 & 8 cylinder applications and feature: 

pMax Black high strength overlay plate with reduced thickness for improved fatigue properties 

Hardened steel backs on all rod bearings to improve the support of the bearing lining and assist with bearing retention in the housing 

Increased crush for improved bearing retention 

Elimination of flash plating on the back of the bearings to improve heat transfer through the bearing sand to maximize the grip between the bearings and its housing 

Increased eccentricity to compensate for bore distortion at high rpm and to assist in the formation of hydrodynamic oil films 

Bulls Eye Tolerance- tight consistent wall tolerances to help you maintain consistent clearances 

Enlarged ID chamfers on bearing edges where required to accommodate large fillet radius on performance crankshafts
COST: $130 shipped in USA and Puerto Rico. Email us for specific grade availability.