This is another testing session of the PRE 11 blade billet compressor wheel on a Subaru. This time the candidate is a 2008 STI with the EJ257 engine equipped with dual AVCS. This car belongs to the tuner we use for all our ECU calibration needs. This car suffered a rod bearing failure at 125,000 miles. Upon engine inspection, the failure was directly caused by a stuck relief valve in the oil pump. Needless to say, the engine required a rebuild. Instead of going all-out crazy build, the tuner wanted a car that would be as comfortable as stock with a bit more go. the goal was to use basic, readily available parts to show that you can build a reliable, quick, and fun STI at a reasonable price. I will not go into intricate details of the engine rebuild. Rather, I will list parts replaced and machining service performed. Nothing "trick" to say the least.
Block rebuild parts and services:
CP forged pistons with coatings on skirts and crowns, OEM 8.2 compression, 99.5mm bore; PN: SC7420
OEM STI connecting rods; inspected and honed on the bearing end to recondition them
ACL Race series connecting rod bearings
King XPG main bearings
ARP head stud kit, 11mm standard kit; PN: 260-4701
New OEM STI heat treated crankshaft, 79mm stroke; PN: 12200AA330
New OEM 12mm oil pump; PN: 15010AA310
New OEM engine gasket kit
New OEM thermostat
New OEM water pump
New OEM STI oil pan
Killer B EJ25 Ultimate oil pickup
Cylinders honed as an assembly with two torque plates
Block cylinder head gasket surfaces machined
Main bearing housings line honed
Bearing clearances and ring gaps checked and adjusted to PRE spec
Cylinder head parts and services:
Cylinder heads disassembled, plugs removed and heads thoroughly flushed after bearing failure
AVCS sprockets disassembled, inspected, and cleaned
Supertech standard size, 36mm, stainless steel intake valves
Supertech standard size, 32mm, Inconel exhaust valves
Supertech dual valve spring kit with titanium retainers
Both cylinder head gasket surfaces machined
Radius valve job on the intake and exhaust seats
Valve clearance checked and set to PRE spec
Accessories and bolt-on parts:
OEM STI TMIC
Go Fast Bits blow off valve(BOV)
OEM 2008 STI cat back exhaust
OEM headers and cross pipe
PRE 11 blade IHI VF48 turbocharger
Ceramic coated turbine housing
GrimmSpeed up pipe with Tial 38mm wastegate provision
Tial 38mm MVS external wastegate
4 port boost solenoid
Invidia bellmouth downpipe
GrimmSpeed 3in downpipe to OEM exhaust adapter
APS hard turbo inlet
Injector Dynamics ID1000 injectors
TGV delete
Cobb Accessport V3 controller
Cobb flex fuel kit with differential fuel pressure sensor
First phone call I received from the tuner and he asked me "What the f$#% did you do with that turbo?!?!?" I was a bit worried but it turned out the spool of the car was so fast it required some trick tuning. The tuner commented that the car spooled so fast and air flow readings were so high for the given throttle input that the car was going into open loop operating. Using Cobb software, the ECU was calibrated to run conventional "pump gas" and E85 fuels. The tune was so good, the car would start, run, and idle on E85 in 20-degree weather without the typical gimmicks associated with E85 fuel and cold starts. The car is a blast to drive with loads of torque and any damp or wet conditions render first and second gear utterly useless with respect to traction.
Below is a dyno graph of this car comparing logs in 3rd and 4th gears. Note the car reaches 20psi boost in 4th gear by 3000RPM. The tuner commented he can be a bit more aggressive with boost solenoid and AVCS control to reduce spool by another 100-150RPM. Keep in mind, this is still a journal bearing turbocharger. Logs were done using E60-E70 fuel according to Cobb Accessport V3. Tuning can be even more aggressive with higher ethanol content fuel, which is unfortunately not available in Illinois during winter months when this testing was performed.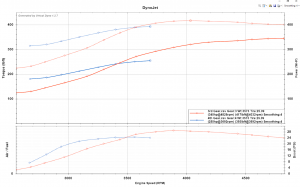 This second graph shows just a third gear log of this same setup.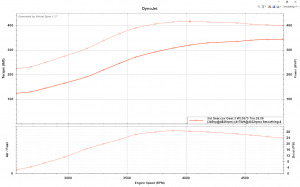 You may purchase this billet compressor wheel from our eBay store: PRE IHI VF48 11 blade compressor wheel