Recently a customer brought us a damaged K04 turbocharger for service. The turbo was burning oil and exhibited excessive shaft play. Upon removal of the compressor housing, it was evident the turbocharger sucked in debris in its life and the leading edges of the compressor wheel blades were damaged.
The following tasks were performed to ensure this turbocharger will keep service its owner:
This turbocharger was part of the APR upgrade for the 2.0TSI and 2.0TFSI VW engine family. The turbo was disassembled, all components inspected and cleaned. The turbine shaft was checked for straightness, masked off for media blasting of the blades, inspected for stress fractures, and finally, polished. After that, turbine shaft size was measured with a micrometer to ensure it was still within specification.
Compressor wheel had to be replaced and we found an exact copy of the original 6/6 wheel that was in that turbo.
All housings were media blasted and cleaned.
A rebuild kit was used consisting of a new journal bearing, oil seals, O-rings, thrust components, and most importantly, a true 360-degree thrust bearing. The OEM thrust bearing found in the Borg Warner turbos uses five small pads to support the thrust loads. We have a custom thrust bearing made with full 360-degree support. Just think about walking on thin ice and crawling across it.
Turbocharger rotating parts were component balanced and then as an assembly to ensure trouble-free operation in a performance application.
We offer complete K03 and K04 rebuilding and upgrading service to suit your needs. We also offer individual parts for sale such as turbine shafts, billet compressor wheels, rebuild kits, 360-degree thrust bearings, and heat-treated tool steel oil seals.
Enjoy a few picture of the finished product!
Front view of the finished and rebuilt APR K04 turbocharger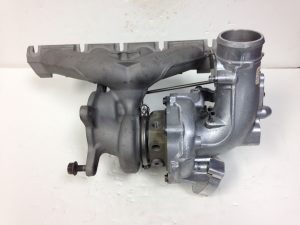 Rear view of the turbo assembly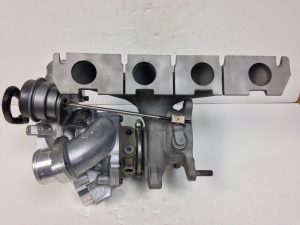 Comparison of the OEM thrust bearing, on the left, and the upgraded PRE 306-degree thrust bearing, on the right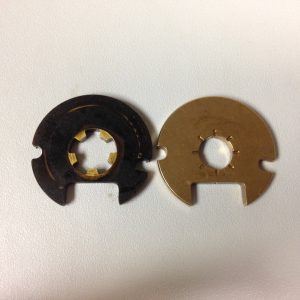 Finished cartridge with a new billet compressor wheel.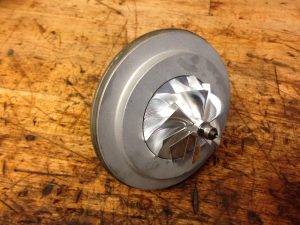 Finished cartridge and the turbine shaft of this K04 turbo.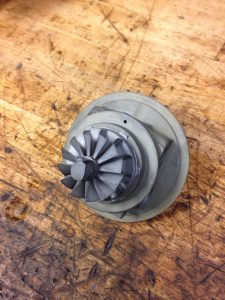 Cartridge installed in the media blasted turbine housing manifold assembly.